A brief history off… my transport… the car years
With car problems and several new cars around home recently it got me thinking of all the bikes and cars I've owned or used over the years, turns out its quite a few!
Part 2 Four wheels
Cars
I'd had my car licence for quite a while, as a hardened biker I didn't need a car license but my mum insisted I learnt to drive. I can't remember the exact reason, could have been the disco kit we had to carry around, girls, mates or the fact that it was quite a distance to work and the novelty of freezing to death on a bike was wearing off.
Peugeot 305 CGS27T
Not actually my car but belonged to my mum. I learnt to drive in this car and is the one I passed my test in. Mum had it quite a while before the 205 had made Peugeot a household name it was a pretty exclusive car and was very nice compared to the current UK standard!
Morris Marina 1.3 Coupe – the first car
My first car. Brought from a friend of a friend as I recall for the sum of £180, a bargain. Still a biker but used this in the poor weather – so nice not to get wet and cold driving to work. Myself and a couple of friends were running a disco at the time so this became the disco transportation method, surprising what you can squeeze into a car when you try.
This car saw some abuse, did you know if you drove forward at 20mph slammed it into reverse and span the wheels (this was the only way to make the tyres squeal) that the reverse idler gear fell to bits and the rear leaf springs went from a 'U' shape to more of an 'S' shape!
As well as learning to drive 'properly' I learnt allot on this car, I learnt about scrap yards and foraging for gearboxes, leaf springs and many other bits and pieces, I learnt how to strip bits of cars and repair them, I learnt how to weld sills with an over powered arch welder, a frequent requirement.
The car was 'Victoria plum' in colour I think, a dark purple (no smoke on the water though!), a truly horrible colour! The car was pretty naff, no style, hideous colour, 12mpg (even when not abused), not fast, didn't handle particularly well but I could see the appeal of owning a car!
Left to rot in the corner of my dads yard until the scrap man gave me £25 to take it away, not sorry to see it go.
Mini 850 KWD80L? – the fun one
I fancied another car, I wanted something with a bit of class, I wanted something with style, I wanted something warm – winter was here again.
I went to see a black mini one winters evening and fell in love with it. When I returned to pick the car up I found it wasn't black but the same hideous purple that the marina was – never mind – to late now.
The little mini was so much fun, not fast (fast enough though) but it handled so well. I came a challenge to try to make the car misbehave and I only managed a few times!
Driven hard but not abused like the marina (I liked this car) it was pretty robust and never let me down. It drunk water and oil like they were going out of fashion, luckily they put a little orange light on the dashboard to tell youth card need oil! I did manage the crack the cylinder head due to no oil and no water but even this it kept going until I swopped it with one from the scrap yard – only a few minutes to swap over.
Despite having many fantastic cars since the mini this was the most fun car I've owned, is wasn't supper comfortable, it wasn't particularly fast but it never failed to put a smile on your face. It was the only car I've owned that had a personality!
I can't remember why or when I got rid of this. I do remember that I was sorry to see it go and always have fond memories of it.
Peugeot 205 1.1 GL B410EWG – the new car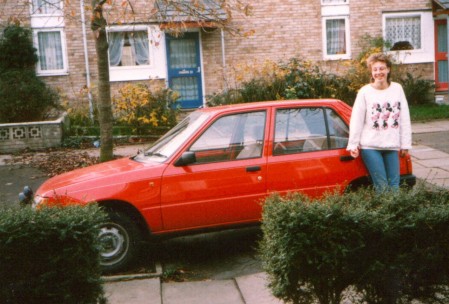 Learning to drive in a Peugeot had spoilt me a little, at the time they were a pretty exclusive car. I loved the mini but it was a British leyland car, basic, un-refined, un-sophisticated and the new BL models were not much better.
I'm not sure of the timeline but Peugeot were pretty rare in the early 80s. Peugeot started running TV ads for the 205 around 1983, I instantly liked the car, this was the only car I've ever seen where I've said – I'm going to have one of these. I went to the Northampton Peugeot dealer and had a look, a drive and said it's time for a proper car, I had to part exchange my BMW bike but shortly after I was the owner of a 6 month old 1.1 205GL. My biking days were over!
Great car, did lots of trouble free miles, comfortable, quiet, fast (for a 1124cc engine), handled well, had some street cred, and has been the newest car I've ever owned.
It did not need fixing every MOT, in fact MOTs became just another day instead of the stressful 'what will if fail on' like the others. It didn't need oil and water every 5 minutes, this was what a proper car was and I quite liked it.
Only sold as I got a company car.
Vauxhall Nova – Blue – the company car
I was working for MFI in their computer department, I needed to travel around the UK so I got my first company car, a blue Vauxhall Nova, can't remember to much about it apart from is was blue!
Was an ok car, better as I didn't have to pay anything for it (that was in the days when having a company car was a perk, was cheap as the government didn't take all your money in tax).
Vauxhall Nova – Red – Meh!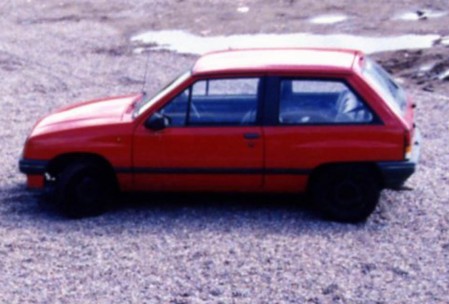 As above, but this time a brand new Nova with just delivery miles on the clock. Again nice but nothing special, the only memory I have of this car is getting told off by the lease company because I'd gone through a set of from tyres in 3000 miles, not my fault the tracking was out by several degrees!
Went when I left the company.
Peugeot 205 1.1 GL C979JKY – familiar territory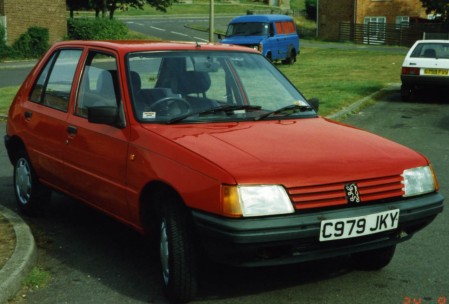 I left MFI so had to buy another car, time for another 205 I think. Exactly the same as before but a year newer. Loads of miles again, reliable, quiet etc.
Only let me down once – a small coupling between the engine and gearbox – fixed on a Saturday morning and not other major issues.
Great car, my wife used it after I got a new car (her first car) over 120k miles when we sold it.
Peugeot 306 – my company car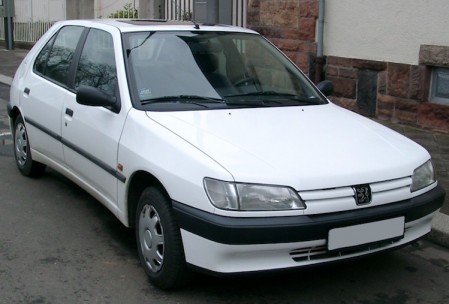 Myself and a couple of others were running our own company at this time and were clocking up quite a few miles. We were doing OK so decided it was time for company cars.
As I had had good service from my 205s I looked at a Peugeot again. This time the 306 was quite new, a nice car, big enough to carry around what we needed.
The company brought three second hand 306's, nice car, bigger than the 205 with a much more powerful 1.4 engine. Quite a few miles in this all over the country, no issues that I can remember apart from when the head gasket blew.
Citroen BX 1.6 Athena H53BRP – nice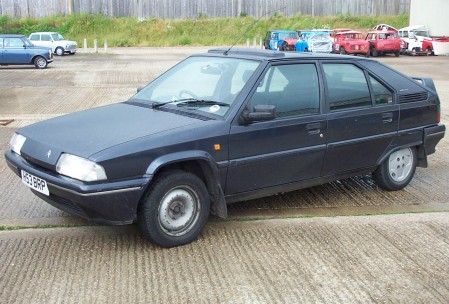 The 306's where clocking up a few miles, time for a new car. I had liked the look of the Citroen BX for a while (an acquired taste I know) and managed to find a nice 1.6 Athena model. The Athena was a special, it had many of the GTI features and trim but with the 1.6 petrol engine.
We loved this car, is took us around France, did many miles and once again Karen had it as her car after it was upgraded.
With it's self levelling hydro-pneumatic suspension, power steering, power brakes, comfortable interior, good performance it was a very nice car to drive.
We had this for quite a few years, the engine started to play up, it let Karen down a few times so it had to go.
If ever there was a car I regret selling, it was this one. If I could find another one today of the same or better spec I would love to have it as a project car, unfortunately they are rare, I don't have the space or time so I doubt this will happen.
Renault Scenic V908KHN – the practical one
The next and so far last company car. We now had a family so needed something family friendly as well as being practical for work. We found a 1.6 Renault Scenic. Super practical, comfortable, nice to drive, perfect for the time.
Great car, no real issues with it, the family loved it, holidays, lots of travel.
Unfortunately the company was doing so well at this time and the company cars had to go, another sad day for a very nice car.
Citroen ZX – L104KCX – the saviour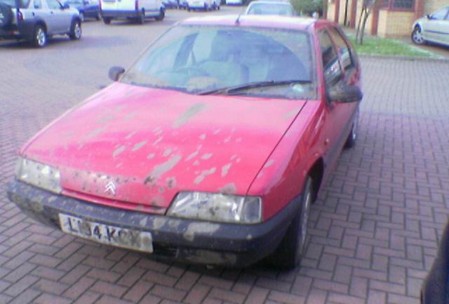 With the company not doing well, its future uncertain (we closed it down not long after) the company cars had to go, it was time to look for another car. This time we had no money and didn't want to take on a loan with the current outlook, time for something cheap, really cheap, time for eBay.
When the Citroen BX went my wife got a Citroen ZX, nice car, I'll see whats around.
After I bit of searching I managed to find a 1.4 petrol ZX, alloy wheels, 101k miles on the clock, slipping clutch but otherwise OK.
Brough from a chap in Newbury for the grand sum of £240, gently driven home with the clutch slipping at the slightest hint of acceleration, I had my new car.
Myself and a friend swapped the clutch out, not expensive but not an easy task either – I can see why replacing a clutch is so expensive – I vowed never to do this again myself!
I liked this car, apart from the clutch (that I knew about), having to get a new ignition barrel (back to the breakers yard again) and the doors not latching shut in the cold (a common ZX 'feature') this car gave me very little trouble. The wider alloy wheels made the handling so much better!
This car saw me through one of the roughest period in our lives, it cost a lot of money to close the business and this meant that things were very tight and we were very cautious for a number of years.
This is also the car that never owed me anything and gave me everything, I had it for quite a few years and sold it for £220 with almost 170k miles on it, still working great.
Times were getting better, we wanted drive abroad holiday, time for a new car.
Citroen Xsara 1.4 – KS51AVL getting old!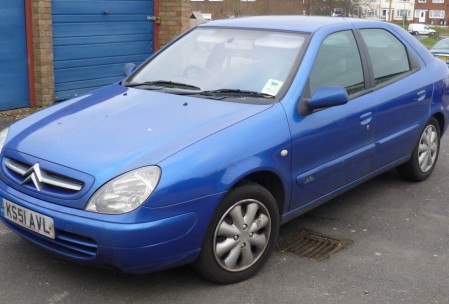 I found a Citroen Mk2 Xsara 1.4 LX, the successor to the ZX but much more advanced and many refinements. Comfortable, quiet and economical but not as much fun as the old ZX, a bit of an old mans car! Took us deep into France and Holland for some great holidays.
Apart from a couple of things, a good car and very reliable, after Karen's ZX was retired she had this for a while.
The gearbox went bad after a while and I had it swapped out for a re-con unit under warranty, and much later the heater matrix went. It is a well know fact that the heater matrix is the first thing Citroen fit to there cars and then build everything around it, not a quick or cheap job. Thats when we sold it to someone who had the time to fix it.
Citroen Xsara 2.0 – MW02MYD – vroom!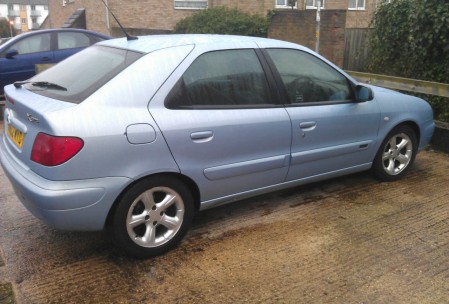 A friend at work was selling his wife's car, a Xsara as I already had but this time a 2.0L SX with extras! Up until not the most powerful car was the BX (89bhp) or the scenic (possibly 110bhp) but both were not especially quick due to there size/weight. This Xsara had a 2.0l, 16v, 137bhp engine and went like a rocket. Very drivable around town but get it over 3000rpm and you were off, wind it up to around 5500rpm and you hit another power band – wow!
Great fun but still a nice family car. No issues, totally reliable but the fuel figures where not so good! I was never thrilled with the look of the front of the Xsara but thats what came with the car!
Mazda 6 2.0 EY04XDV – Diesel power zoom zoom!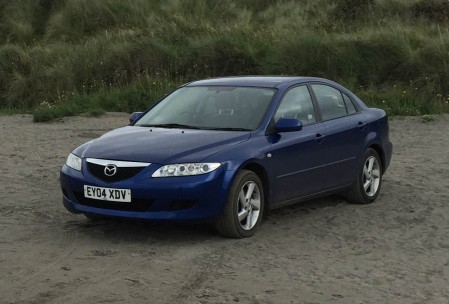 I'd had the Xsara for 2 or 3 years when a friends dad was selling his Mazda 6 2.0L Diesel. This was a great looking car, great on the road, excellent performance, excellent handling and fantastic economy.
It had to have to have a new clutch fitted but apart from that a very cheap car to buy, own and run.
I had this just short of three years and while it never let me down but quite a few bits and pieces where beginning to break down and sooner or later it was going to get quite expensive. It needed four new tyres and an MOT in a couple of months that it may not pass, time for something new.
Kia C'eed 3 1.6 – different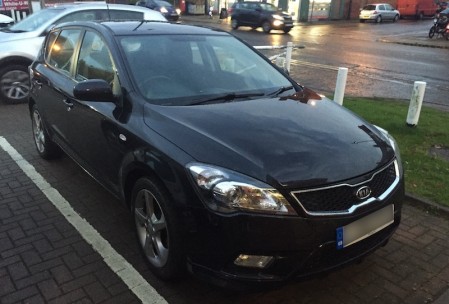 I was unsure what to get next, I had enough money that I had quite a selection of cars available to me. I could get another Mazda 6 but my budget would only stretch to a higher milage car, I could get a mondeo, a passat, a Skoda or something similar but they to would be higher milage. Higher milage was something I've never being to worried about, my ZX had done 170k miles, the 205 around 120k and newer cars were much more reliable – or so I thought. Turns out that with all the emission requirements on modern Diesels they had become less reliable at higher milage especially if they did not get a regular long run. I was being told that at around 100k miles you would need a new dual mass flywheel/clutch (£1000) and a new particulate filter (£1000). This is why there were so many cars around this age on the market, cheap to buy today but could get very expensive in the near future.
I also missed the size of the Xsara and ZX, the Mazda was great to drive, it did not feel like a big car but whenever you parked is always stuck out a bit. Time for a rethink – but what? I wanted something reasonably powerful, comfortable, now I was not doing lots of miles each year economy was not so important and something a little smaller. Many cars fitted these requirements but I had being spoilt by the Mazda, it had cruse control and climate control both of which made it to my must have list. If I excluded the high milage diesels, this narrowed the choice of cars to around zero! What to do?
A mechanic friend suggested I looked at a Kia. Seven year warranty, excellent reliability, good trim levels. Not a car I would ever have entertained but I'd have a look.
I found a five year old 1.6 petrol C'eed 3 with 80k miles at the Kia dealer in Milton Keynes. It's been a long time since I went to a dealer, in the past they have never been great and always left my feeling bad, this was not an experience I was looking forward to!
How things have changed, Ollie the sales guy was fantastic, no pushing, brilliant, a fantastic experience. Took the car out for a test drive, very nice, not as quick as the Mazda but quick enough and had all the bells and whistles I wanted.
Deal done! So my new car is a Kia Cee'd. five years old and still with a manufactures warrantee. Over the last five months I've gotten used to the difference in power, put a better stereo in (with proper bluetooth) and am enjoying the car.
It is probably one of the best put together cars I've owned, no rattles or squeaks and everything works as is should.
A Kia – who would have thought!
Our other cars
[code language="plain"][/code]
[code language="plain"][/code]