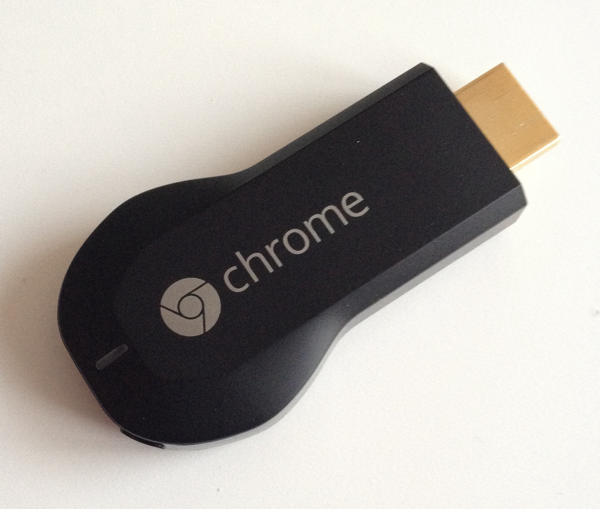 New toys in the house.
Released in the UK today we thought we would treat ourselves to a couple of the £30 Google Choromecasts to make our not so smart TVs a bit smarter, a quick trip down to Currys this afternoon bagged us a couple of the devices from the prominent in store display. I assume they were selling well as the sales assistant seemed somewhat bemused as to what they do and why everyone was buying them!
For those that don't know the Chromecast looks like an oversized USB memory stick but instead of a USB plug on the end it has a HDMI connector. This plugs into your TVs HDMI socket (via the supplied extension cable if needed), another micro USB cable plugs into the other end and powers the unit from either a USB socket on the TV or the supplied power supply. Once setup you can use your 'smart device' to play music, videos etc on your TV from a number of online services.
Setup is easy, its all done from the Chromecast app on the iPad (or iPhone or Android device etc). Once setup and running a little Chromecast icon shows on a number of the iPad apps, have tried netflix and the BBC iPlayer so far. It takes a few moments to buffer but once done the videos play smoothly with a good quality picture. It looks like the stream is set up direct from the source to the Chromecast device so you can do other stuff on your iPad while the movie plays.
There are some noticeable absentees from the party, amazon for example are planning to launch a competitive device later on for their love film/prime streaming service.
Update….
We've had the Chromecasts for a couple of months now and it seems the support is growing. More apps on the iOS are adding support including DS Video, I can now watch movies on my TV from our Synology NAS box.